---
What is a personal alarm?
A personal alarm is a safety device where you can press the button at any time should you feel vulnerable and be in need of emergency assistance. Our alarms are available as pendants or wrist bands.
Mi-Guardian is designed to give you and your loved ones complete peace-of-mind when you're in the home or garden and need help. Our GPS alarms also work out of the home, so whether you're out shopping, enjoying the outdoors or visiting friends or family, you know help would always be at hand should you need it.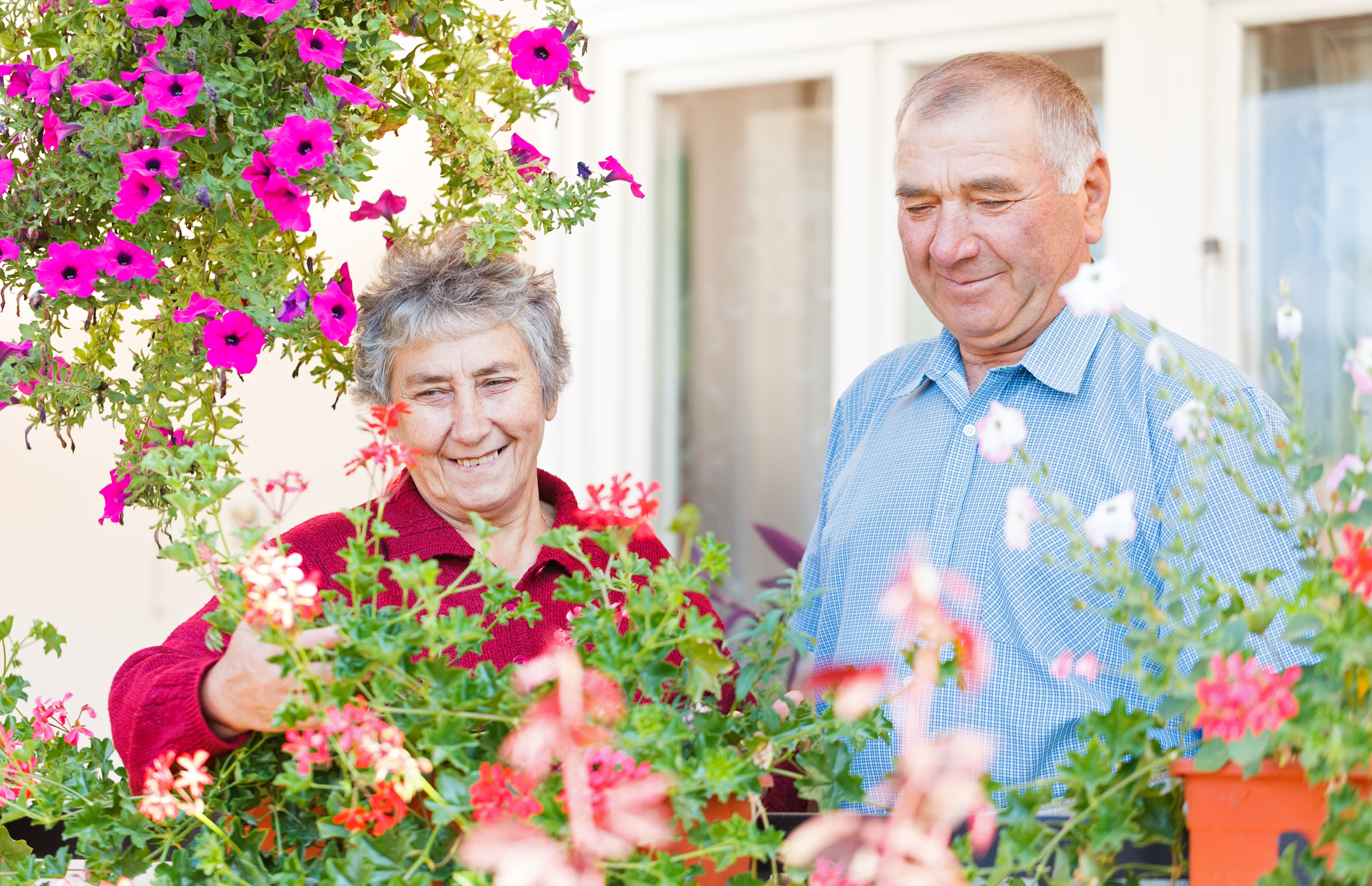 ---
How Does Our Service Work?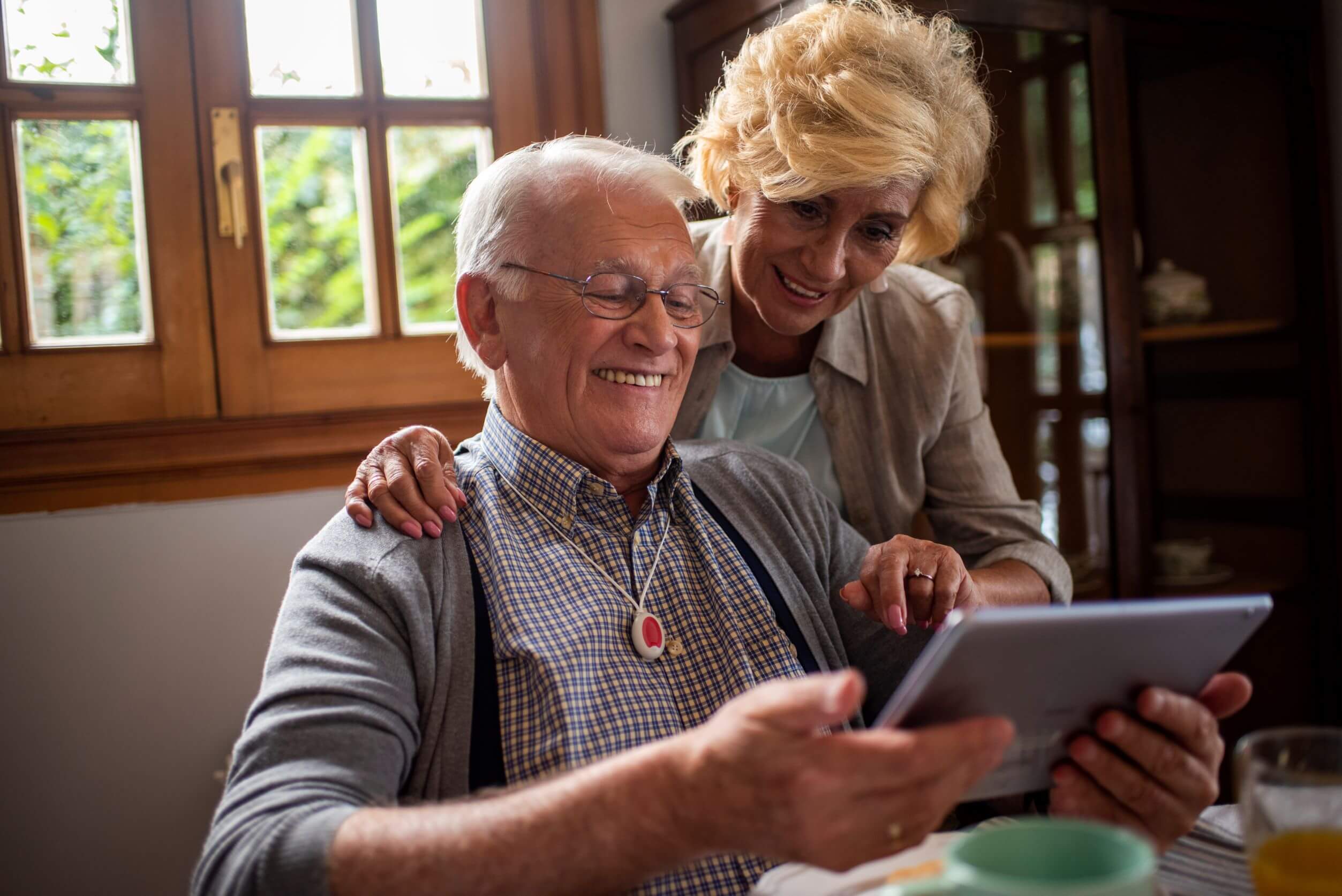 If you are wearing your personal alarm you can press for help and it will be immediately connected to our 24/7, UK-based call monitoring service that is always ready to receive your call 365 days a year. If you are within 50m of the device base unit, you can speak to our monitoring centre and inform them of the situation. If you can't talk, our highly trained call monitoring team will assess the situation and arrange for the appropriate assistance for you.
As part of the signing up process, we'll ask for your emergency contact details. These can be family members, friends or carers. Depending on the situation, our specialist team will call the appropriate emergency contact immediately and so they can make contact with you or come to your aid.
Depending on your assistance needs, our team may also call the emergency services.
---
Why Choose Mi-Guardian?
We don't ask for a set up fee and there are no upfront costs to you. You do not buy the equipment from us but enter into a Direct Debit agreement to rent the equipment which starts at just £5 per week.
Mi-Guardian is part of the Millbrook Healthcare Group, a trusted partner of the NHS for more than 30 years and we are proud to be one of few telecare providers to be awarded TSA accreditation. We have a UK-based call centre that is manned 24/7, 365 days a year by empathetic, highly-trained specialists who truly understand your needs.
Through our partnerships with Local Authorities we already help thousands of customers stay safe in their homes. So, we already have a lot of experience and awards for our service!
Should you at any time decide not to continue with the Mi-Guardian service (and we hope you'll be very happy) we will simply collect the equipment from you.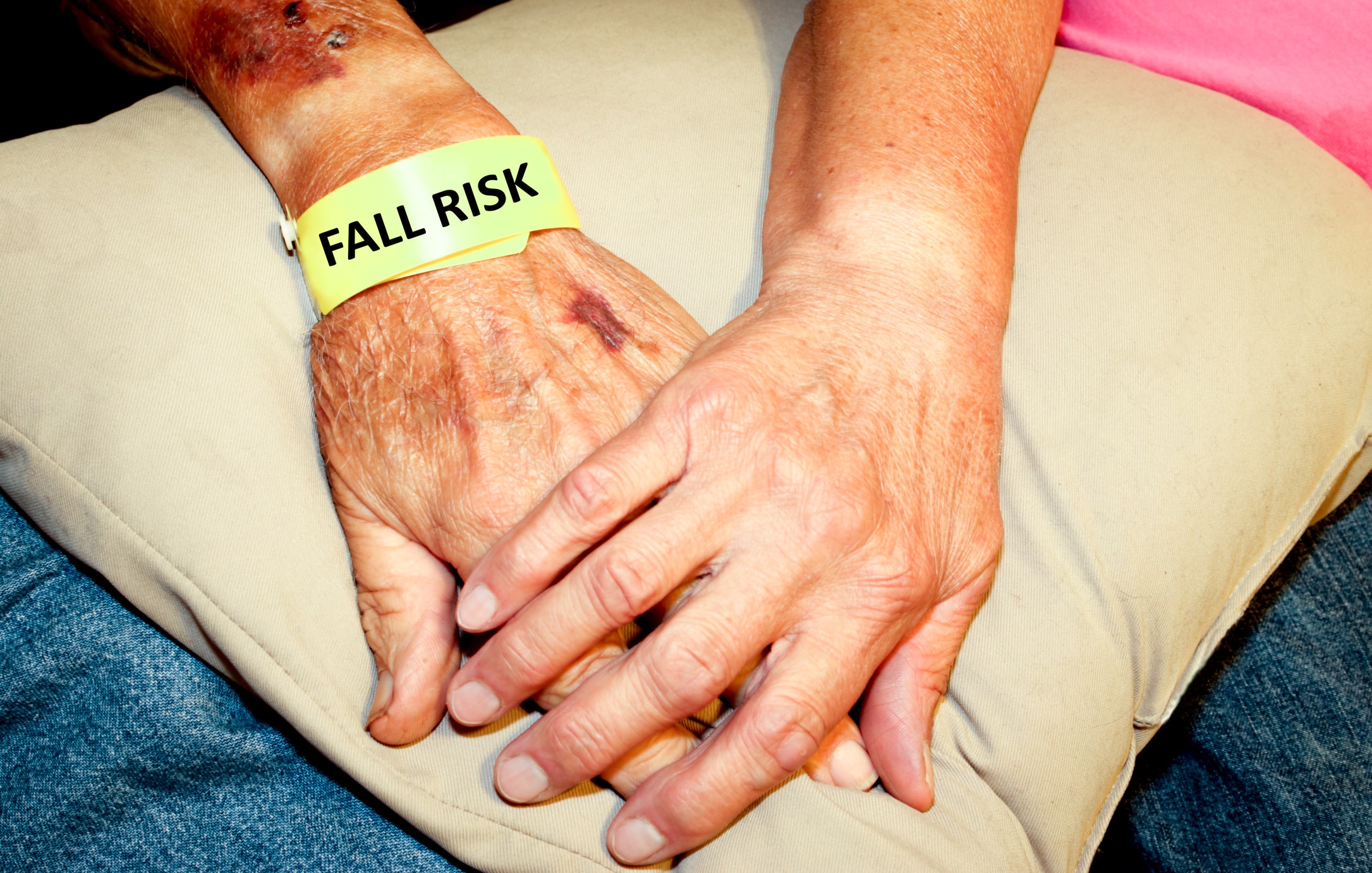 ---
FAQs
A personal alarm is a device you can wear or carry with you as you move around either at home or out and about. It allows you to call for help at the press of a button if you need assistance in any way. This could be because you've fallen, you need immediate assistance or you are worried about any situation you may find yourself in.
A falls alarm detects a sudden change in movement or acceleration which sends an alarm out to a call monitoring team. The alarm can be cancelled if you do not need assistance. In the event that you need help a call monitoring team member will check what assistance you need whether that's contacting a family member, friend or carer; they will also contact the emergency services if that is the help you need.
A personal alarm will help ensure that you are safe both in the home and out and about. It will provide peace of mind to those that care about you, knowing that help is on hand when you need it. You don't need to remember multiple numbers as a press of a button will connect you to our UK based 24/7 call monitoring centre.
Pressing the button triggers an alert for our monitoring team who will then contact the user via the speaker system or on the phone. This first response will come just seconds after the button is pressed. Our support team will seek to understand what has happened and what level of assistance is required. During the subscription process, we will ask the user to nominate friends or family that can be contacted in the event of an emergency or that they would want us to contact if they simply needed some help. Once assessment has been carried out, we will then contact either the emergency services or one of the nominated network of friends, family or carers and provide them with necessary information such as address, incident details and any access codes for doors or locks.
Mi-Guardian comes at a flat monthly price based on a personalised package of alarms and monitors. The system is live from the time of subscription and can be activated immediately upon receipt if required. For analogue devices your phone provider may add a charge when you press your button. This is not the case for digital or GPS devices.
The Mi-Guardian personal alarm is typically worn as a pendant or wristband and operates wirelessly. The service can be extended to include additional product monitors for gas, flood and smoke to suit the personal needs, wishes and activity level of each user. The intercom/speaker that is supplied connects into a standard telephone line and plugs into a nearby power point. The image at the top of the page shows two of our typical standard units and pendants.
Pressing the alarm alerts our monitoring team who will then make contact with the user and carry out an assessment of the situation. If the user is hurt, in pain or feeling unwell the emergency services can be contacted by our monitoring team, directed to the address and given any access codes required to enter the property. If the alert does not give rise to concern for the health of the user or is not assessed as an emergency, one of the users' response network will be contacted, normally a friend, neighbour or member of the family.
The simple answer is no. Whilst Mi-Guardian does use your telephone line as a means of communication, the technology inside our unit allows your telephone to continue functioning as normal even if the Mi-Guardian system is in use. You should not experience any interference with your telephone calls or internet connection whilst running the Mi-Guardian service.
You can wear your personal alarm when you go to sleep, but please be aware that if you roll over, you could accidentally make a call to the monitoring centre. You could instead leave it on your bedside table (next to your bed), but please remember to put it on if you get up in the night.
It is splash-proof so you can wear it in the shower, but not in the bath. Just leave it by the side of you whilst bathing, which is within grabbing distance.
Yes, we offer different wearing options to suit your preference.
Just wait for the call centre to answer and then let them know you're ok and that you're testing your personal alarm or you pressed it by mistake. They won't mind and like you to test it monthly, as it keeps the personal alarm's battery charging up.
Either your nominated key holder will be called (by the monitoring centre) to let them in or if you have a key safe the monitoring centre will give them the keycode and location of it.
It is a small safe, which is fitted to a wall outside your front door (or in a location you'd prefer). You can store a spare key in it. You'll be asked to choose a unique pin number to open it – which only you, your next of kin and the monitoring centre will know.
The range is about 50 metres from the base unit. GPS locators can be used if you need reassurance away from the home.
The call centre will try to talk to you through the base unit; they'll increase the volume if they can't hear you or ring you back on your landline before asking your key holders to attend.
You do not have to pay the VAT on some goods and services if you are disabled or have a long-term condition (such as high blood pressure, arthritis or diabetes) and the goods are designed to help you with your daily living. You will need to complete a declaration form otherwise we have to assume VAT is chargeable.
It depends on your critical needs, but normally you can expect it to be with you within a couple of days of ordering it.
Yes please, we actively ask service users to test their personal alarm at least once a month to help keep the battery charged. When you do a test just let the monitoring centre know you are ok and are only testing. If you do not reply, they will assume it is a genuine call for assistance.
When it beeps it means that the 9v battery needs replacing. Once it has been replaced, simply hold down the test button and and let the monitoring centre know you're testing your smoke alarm. We recommend you test your smoke alarm each month.
Prices start from £5.00 a week plus VAT (unless you're exempt from VAT).
Not necessarily, you may need a broadband filter installed onto each of your phone line points, which the personal alarm will be plugged in to. If installed this way, your internet and phones should work fine alongside your alarm unit.
In addition to the personal alarm (which is an additional cost), you can also lease from us smoke alarms, fall sensors, carbon monoxide detectors, medication dispensers, heat detectors, flood detectors, temperature extreme sensors, additional pendants, passive infra-red sensors, care pagers and GPS locators. Prices are available on request and before purchasing we will always do a suitability check.
The base unit comes with one personal alarm, but if additional people in the same house would like their own personal alarm, these are available and can be ordered by contacting our customer service team on 0800 130 0011 or via email at [email protected]
This is an easy process and can be requested over the phone. As per our terms and conditions, we do ask for one month's notice (not applicable if the service user passes away). Once you notify us that you no longer require the service we will arrange for a courier or one of our technicians to collect the equipment from you. If you live near to one of our service centres, you can drop everything there. We will talk through these options with you.
You can press your personal alarm or base unit and let the call centre know the new information. Alternatively, you can call us on 0800 130 0011 or email [email protected]
Yes, you will need to notify us of your new address and phone number and you may need to adjust your keyholders listed. You will need to disconnect the equipment, when you are ready, and ensure all the cables are kept safe. When you install everything at your new address, it's important to test and notify the monitoring centre that you are now living at your new address. If your alarm was originally prescribed by an occupational therapist then you should contact our customer service team on 0800 130 0011 or via email at [email protected] us before you move, as you may have sensors that belong to the local authority.
Yes. This is an easy process, which we can talk through with you. Please speak to a member of our customer service on 0800 130 0011 or email our team at [email protected]
There will be a company label on your alarm unit with their details or you can press your personal alarm and the call centre will tell you who your provider is.